We've all played that game: What would you put in your dream house? Maybe a movie theater, an arcade, or an industrial kitchen? Or even something crazy, like a shark pool?! It's too bad that most of us will never see the money necessary to make our dreams come true, but there is a little silver lining: If you've dreamed of it, chances are that there's a celebrity mansion that has it.
There's no end to what the imagination can create with the right amount of money, after all, so there are some homes and compounds out there that are either truly incredible or truly absurd (or perhaps both). So while you keep scratching off lotto tickets, you can look at these insane celebrity mansions and keep dreaming, planning, and scheming.
Will Smith & Jada Pinkett Smith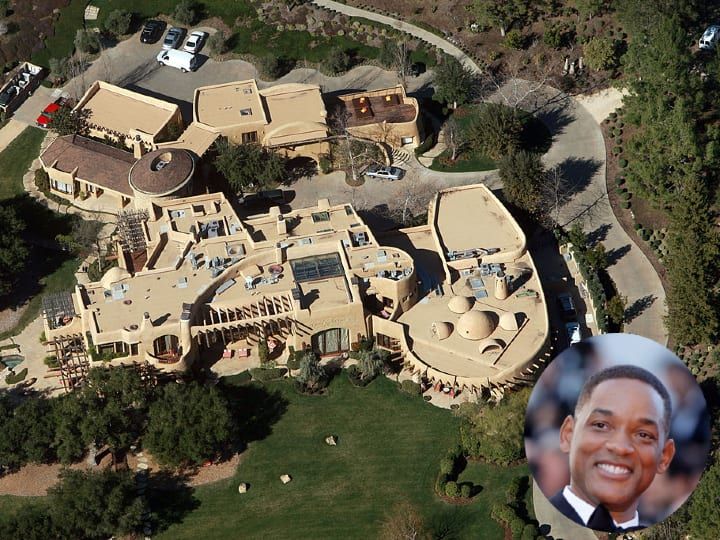 Let's start with the Fresh Prince himself, Will Smith, and his wife, Jada Pinkett Smith. The couple's combined net worth amounts to a whopping $270 million, and boy, do they know how to spend it. Their main home, located in Calabasas, California, spans 150 acres of land and totals 25,000 square feet. It's currently valued at $42 million and took seven years to construct. They had it built with Asian, Mediterranean, and African themes in mind, and it even has a front door that was recovered from a fort in India.
Mark Wahlberg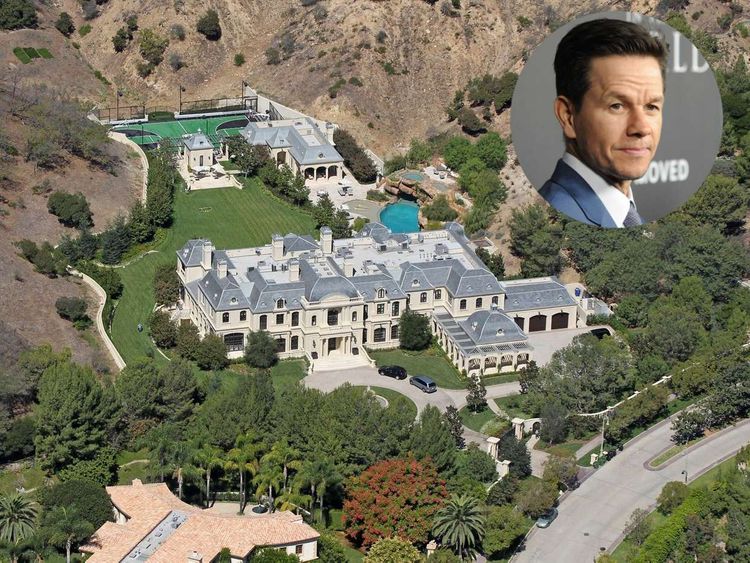 Located in a prestigious community in Beverly Hills, California, Wahlberg's 30,000 square-foot house was designed by famed LA designer, Richard Landry. With 11 bedrooms and 18 bedrooms, this French estate (built of stone) features a stone pool and spa, full-size basketball court, and backyard putting green. Best yet, it only took five years of construction.
Kim Kardashian & Kanye West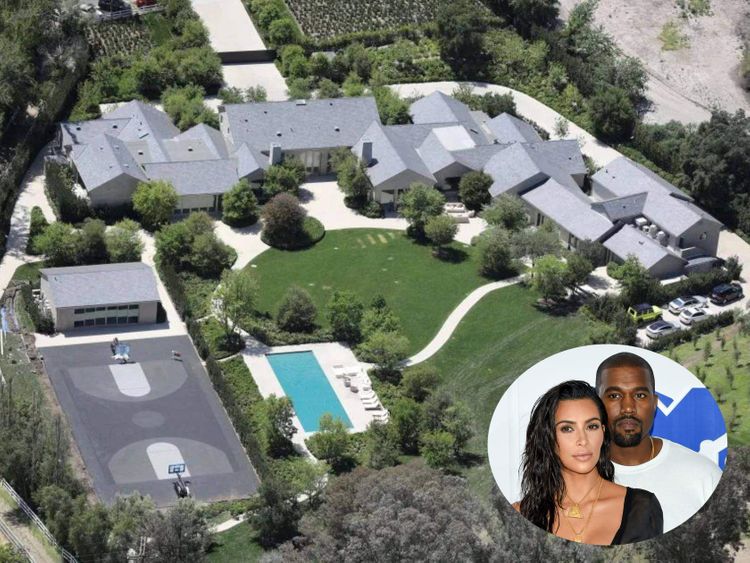 We would be remiss if we didn't include one of the biggest power couples in Hollywood on this list. Kim Kardashian and Kanye West, sometimes known affectionately as "Kimye," live with their three children in a $20 million mansion in Hidden Hills, California. It spans three acres. The dream home came with oodles of amenities already, but the couple bought its neighbors' properties and ordered another $20 million in remodels, which were recently completed.
Lady Gaga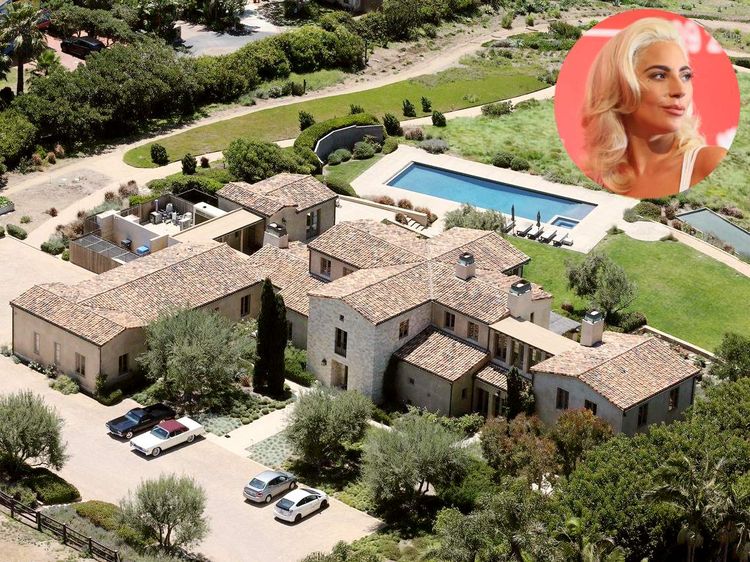 In 2014, Lady Gaga purchased this Malibu, California, home for $22.5 million. "This is my sanctuary… my oasis of peace. I call it my 'gypsy palace,." The seven bathrooms and five bedrooms give way to incredible views of the Pacific Ocean – right about Zuma Beach. The living areas feature an open floor plan, drawing focus to exposed wooden beams and rustic vibes.
Ellen DeGeneres & Portia de Rossi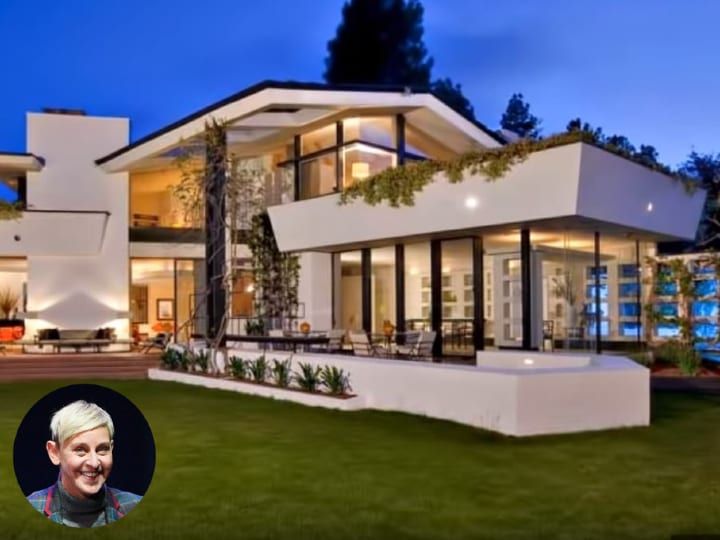 Famed talk show host Ellen DeGeneres has what both she and her wife, actor Portia de Rossi, have described as an obsession with houses, real estate, and interior design. Ellen explains that this stems from the dream that she and her father shared in her childhood. One day, they wished, they would own a house and not have to rent. That dream didn't come true in Ellen's childhood, but she's making up for it now. The house that she and De Rossi reside in currently is the seventh one that they have owned.
Dwayne Wade and Gabrielle Union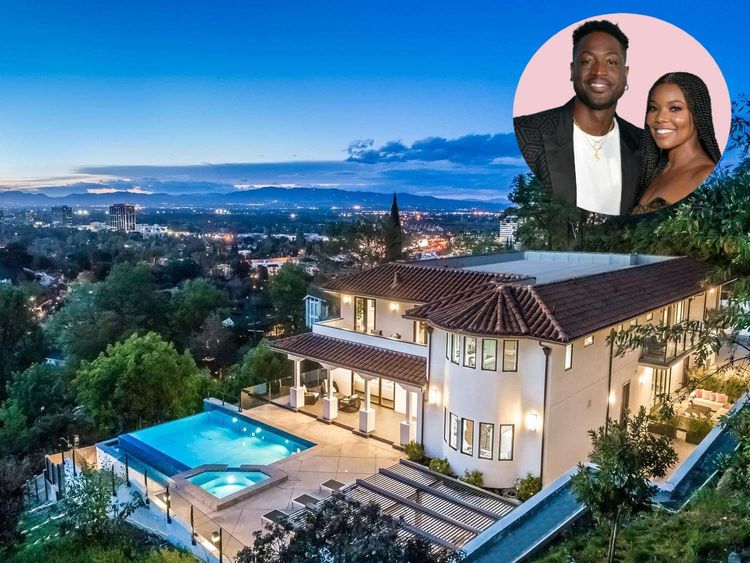 In 2018, Dwayne Wade and actress-wife, Gabrielle Union, purchased this Sherman Oaks, California, home for just shy of $6 million. Less than two years later, the Wade's have recently listed the property for $6.2 million. The Mediterranean-style home has 180 degree views of the San Fernando Valley, five bedrooms, and a circular staircase in the middle of the home.
Aaron Spelling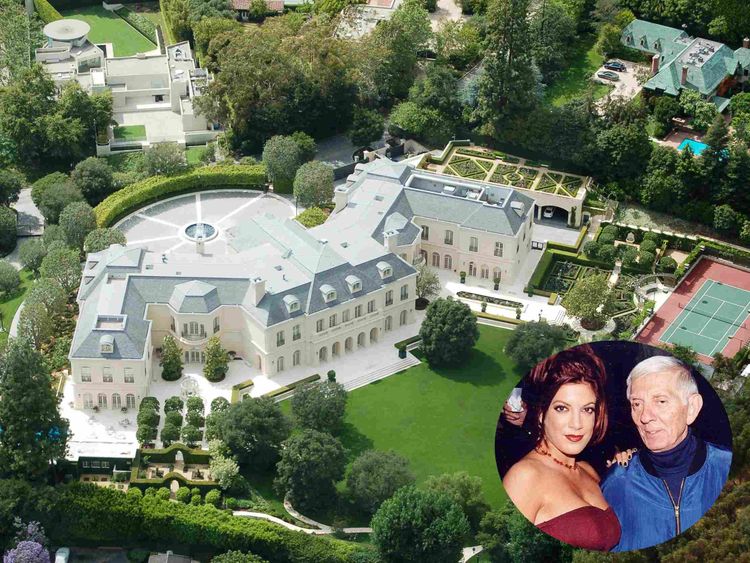 The famous Spelling Manor — now simply known as "The Manor" — is well known as the largest home in Los Angeles County. Famed producer Aaron Spelling, known for his work on Charlie's Angels, Beverly Hills, 90210, and Charmed (to name a few), demolished Bing Crosby's old mansion to build his 56,000 square foot, 123-room home. Aside from the standard bedrooms, bathrooms, studies, and lounges, the late producer's home — he passed away in 2006 — had several ultra-specific rooms, such as four gift-wrapping rooms, a humidity-controlled silver storage room, and display rooms for many of his wife's collections. (One was specifically for her massive assortment of dolls.
Dan Bilzerian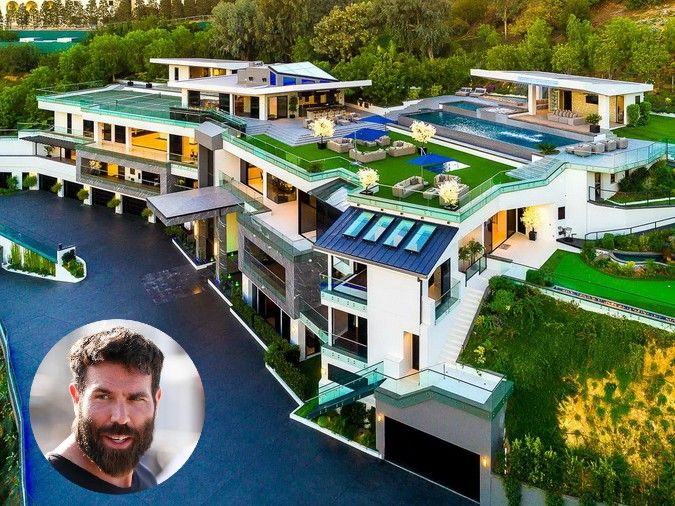 If unfamiliar with the name, Dan Bilzerian is considered the "king" of Instagram. He's made a fortune playing poker professionally. In 31,000 square feet, this mega mansion has 12 bedroom suites, 23 bathrooms, a 40,000 square foot patio space, and 5,600 square-foot master suite. Dan purchased this masterpiece for $80 million.
Bill Gates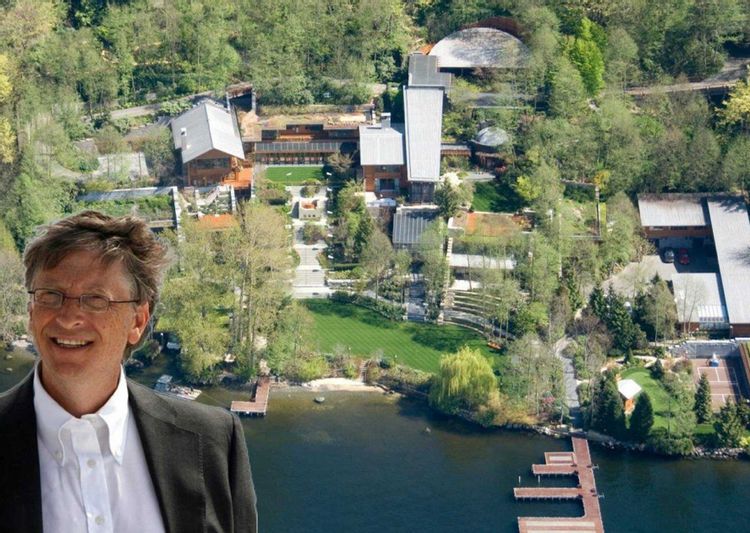 You can only expect that the second-richest man in the world would have a truly impressive home, and Bill Gates' Xanadu 2.0 (nice Citizen Kane reference, Bill!) does not disappoint. The massive compound in Medina, Washington, is 66,000 square feet. It cost $63.2 million, took seven years to build, and is worth $123 million today. The home contains rotational artwork on a computer system that cost $230,000. Oh, and just in case you thought billionaires couldn't be fun, too, there's a trampoline room with 200-foot-high ceilings.
Jay-Z and Beyonce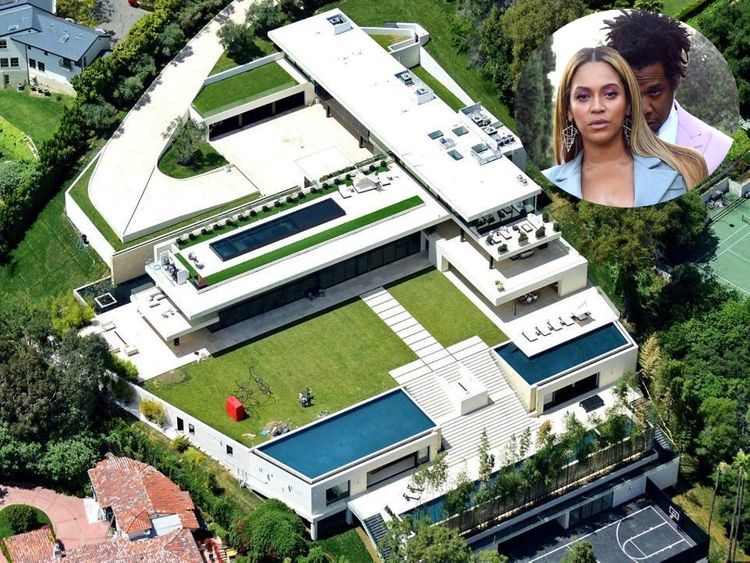 In 2017, the Jay-Z and Beyonce power couple purchased a 30,000 square-foot home in ultra-exclusive Bel-Air for $88 million. The home is composed of six structures, four swimming pools, spa and wellness facilities, and bulletproof glass walls and windows. The numerous patios and terraces offer sensational views of the greater LA area.
Justin Timberlake and Jessica Biel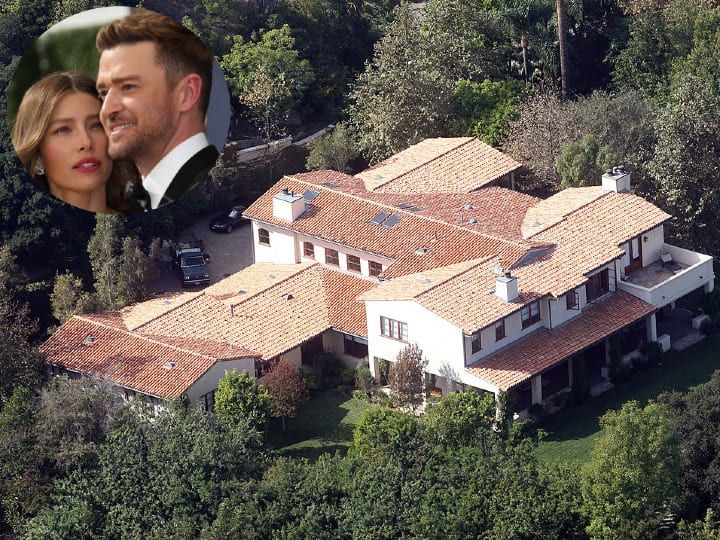 Justin Timberlake and Jessica Biel live in a luxurious LA mansion along the famed Mulholland Drive. Timberlake bought this incredible home from actress Helen Hunt in 2002, a decade before marrying Biel. The 12,545-square-foot home includes five bedrooms and eight bathrooms, as well as an enormous guesthouse. He's recently added a full-size basketball court, a putting green, and a swimming pool.
Eddie Murphy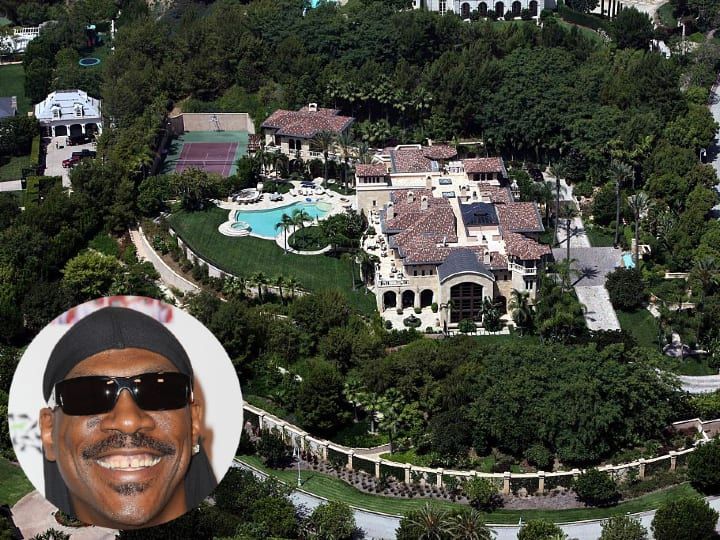 In 2001, the actor purchased a 3.7 acre in Beverly Hills for $10 million. With neighbors like Denzel Washington and Rod Stewart, Murphy decided to build a 40,000 square-foot mansion in the 19th-century Classical Italianate style. The home has a detached 5,200 sq.-ft. Guest house, nine bedrooms and bathrooms, two-story library, a bowling alley, tennis court, and pool.
Cardi B and Offset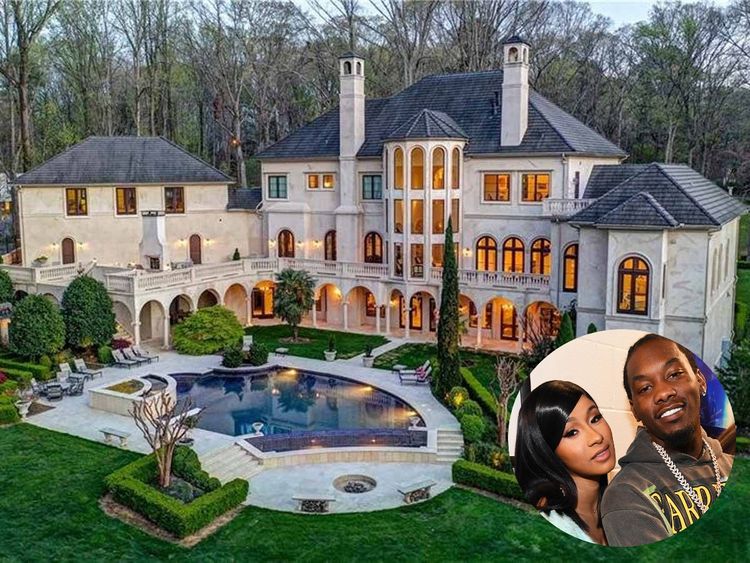 Just mere months ago, Cardi B and Offset of rap-group, Migos, purchased a stellar 22,000 square-foot mansion in Atlanta for $5.8 million. The European-inspired and constructed home spans six acres and prominently features the rolling lawns and private garden. The home contains an 1,800-bottle wine cellar, four-car garage, and even a gun range, complete with steel decked walls.
Sean Connery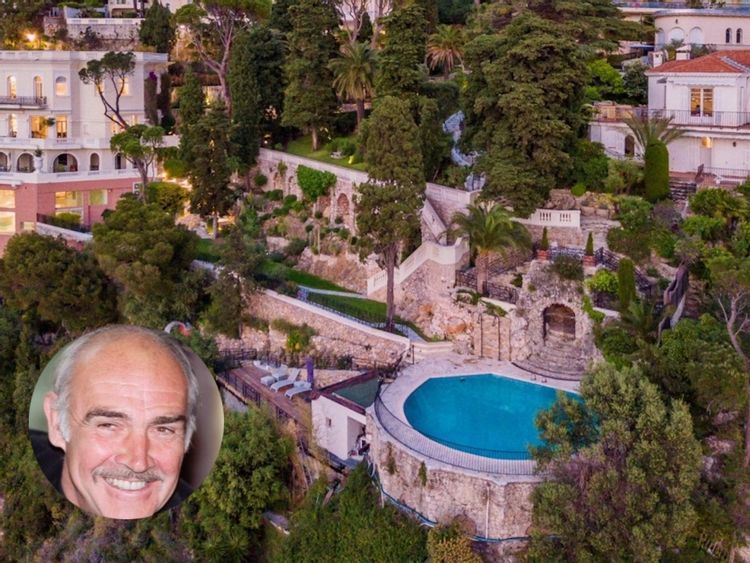 James Bond actor Sean Connery lived in a mansion on the French Riviera that was truly appropriate for 007. The classical French home sat on 24-acre grounds, and featured an outdoor pool with gorgeous ocean views, an indoor pool, an underground fitness center, and two extra guesthouses. This life of spy luxury isn't cheap however, as the home is currently worth on the market for a cool $45.7 million.
Tom Brady and Gisele Bundchen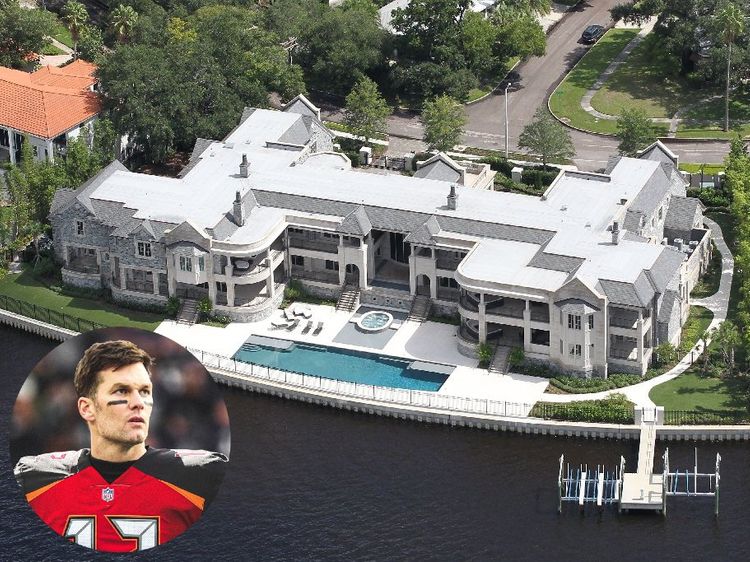 Tom Brady and Gisele Bundchen finally made the move to Tampa Bay where they're renting what was once Derek Jeter's mansion for $75,000/month. The 30,000-square foot waterfront home on Davis Islands has seven bedrooms, nine bathrooms, an entertainment room, a billiards room, two boat lifts, and a massive wrap-around pool. Apparently, that's no big deal considering he just signed a two-year, $50 million contract with the Buccaneers.
Denzel Washington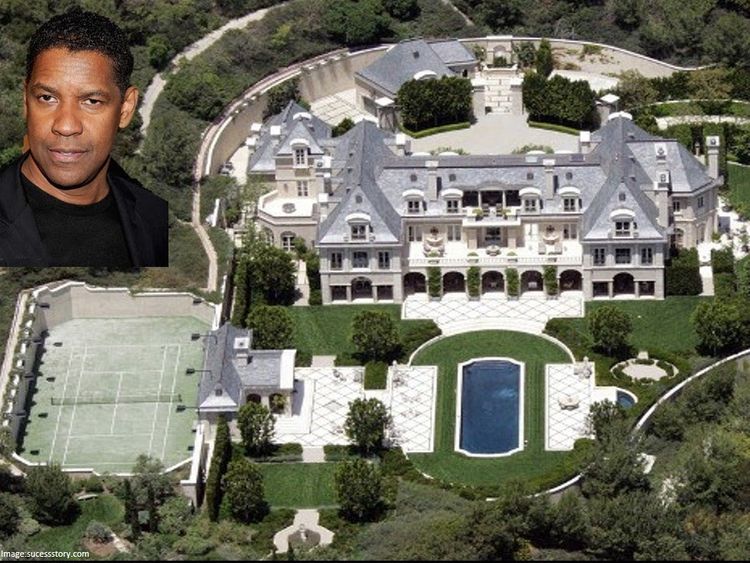 Actor, director, and film producer, Denzel Washington, owns this Beverly Park Estate located off Mulholland Drive in the mountains between Greater LA and the San Fernando Valley. The 1.5 acre property is heavily guarded yet features sprawling and extremely manicured lawns, an enclosed tennis court, and airy pool area.
Lil Wayne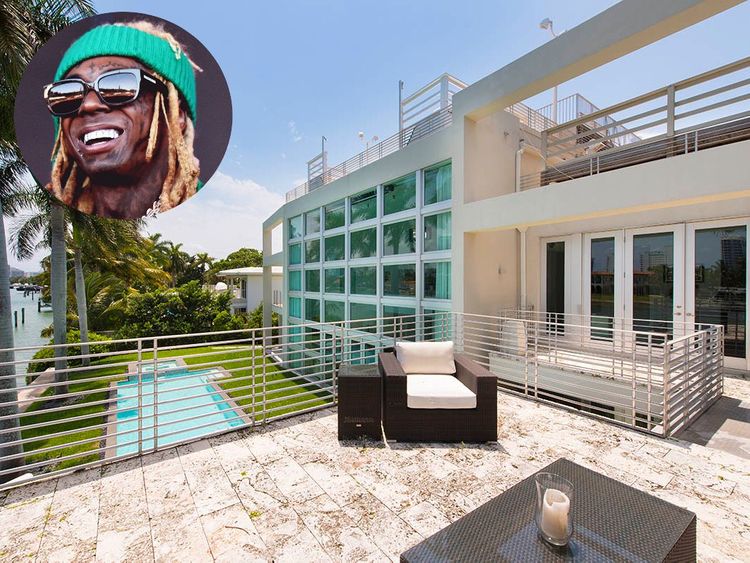 If you've ever wanted to own a home that came complete with a shark pool, you may have just missed your only chance. Lil Wayne sold his Miami Beach home in 2017 for $10 million. Whoever bought it got quite a deal, because its original 2015 listing was for $12 million. Aside from the shark pool, it also came with a regular (shark-free) swimming pool, a rooftop skate park, a movie theater, a recording studio, and a private dock. It also has a two-story master suite (accessed by elevator), eight other bedrooms, 10 bathrooms, and multiple kitchens. All in all, this waterfront home takes up around 15,000 square feet.
Joel Osteen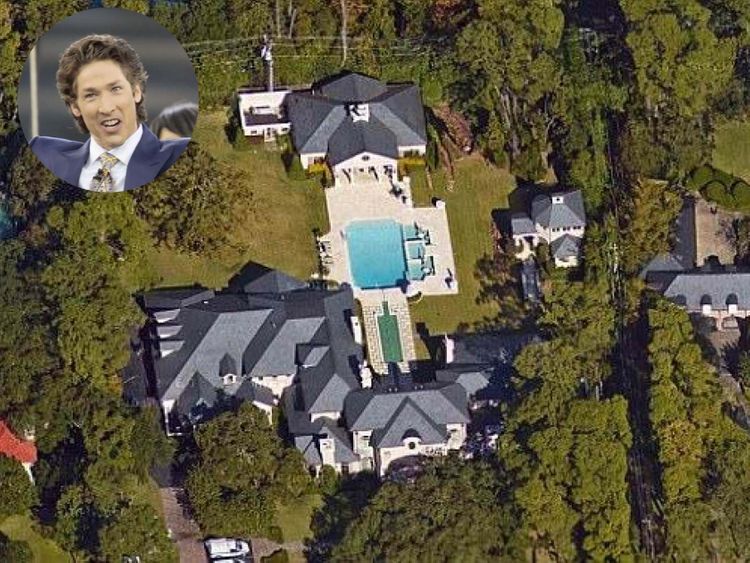 Joel Osteen is a well-known televangelist, preacher, and best-selling author from Houston, Texas. As one of the richest pastors in the U.S., he comfortably lives in this $10.5 million mansion with six bedrooms, six bathrooms, five fireplaces, three elevators, a one-bedroom guest house, a pool, and a pool house as well.
Jeff Bezos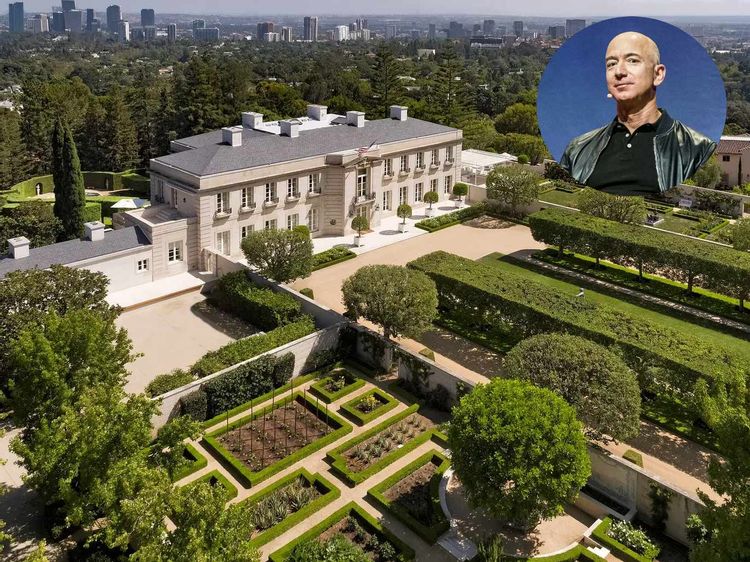 Jeff Bezos purchased this Beverly Hills mansion for $165 million (which is nothing to him being one of the richest men in the world). He took the Warner Estate off the hands of media mogul David Geffen as the highest residential real estate purchase ever recorded. This home, in particular, is famous in its own right as it was the TV home to the Clampett family from the Beverly Hillbillies in the 60s.
Oprah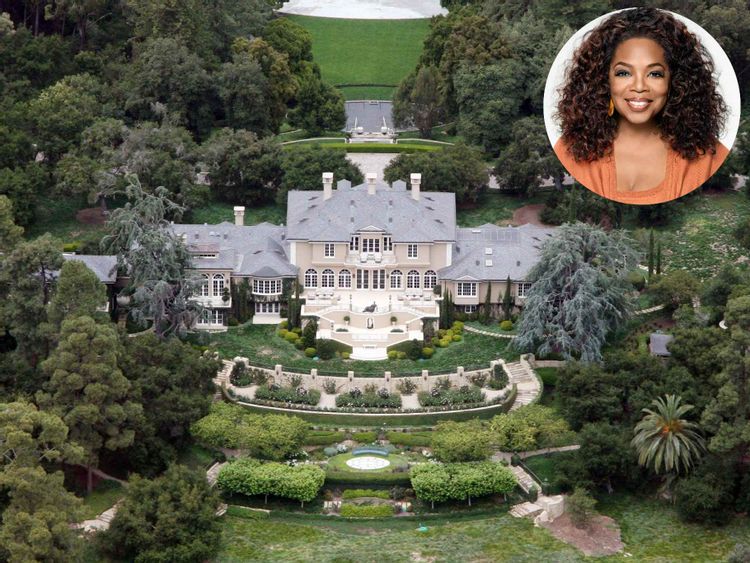 These Celebrity Mansions Are Just Enormous
By Melanie WeirOprahSourceADVERTISEMENT – CONTINUE READING BELOW
Oprah's mansion is worth more than $100 million today. It's known as the "Promised Land" estate which spans across 70 acres. At its center is Oprah's 23,000-square-foot mansion, an impressive neo-Georgian pile, and impeccably landscaped grounds include rose gardens, terraces, and fountains. Not only does Oprah have more homes than she knows what to do with, but each of them have more rooms than she'll ever need too.
Clint Eastwood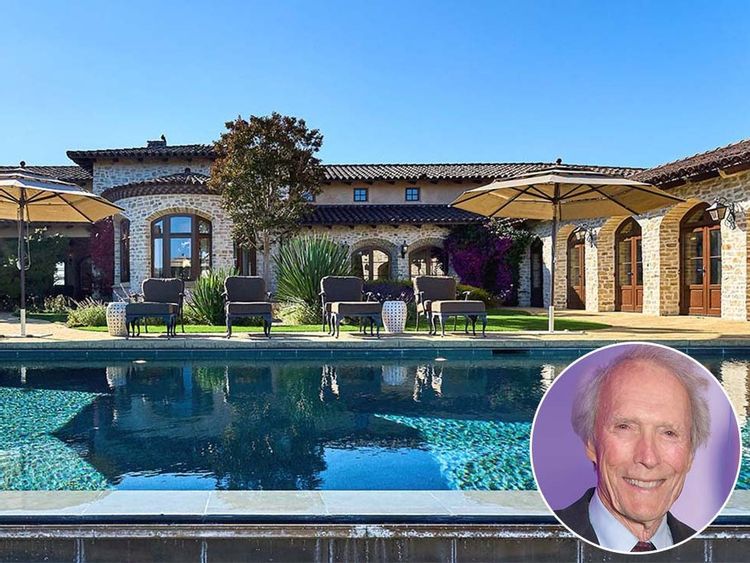 Clint Eastwood's Hacienda-style estate in Pebble Beach, California, is valued at $9.75 million. This mansion has six bedrooms, thick adobe walls, a terracotta tiled roof, and the original Spanish-style wooden doors at the front of the home. This 6,900-square-foot house is built around a central, open-air cobbled, and a central fountain.
Jennifer Aniston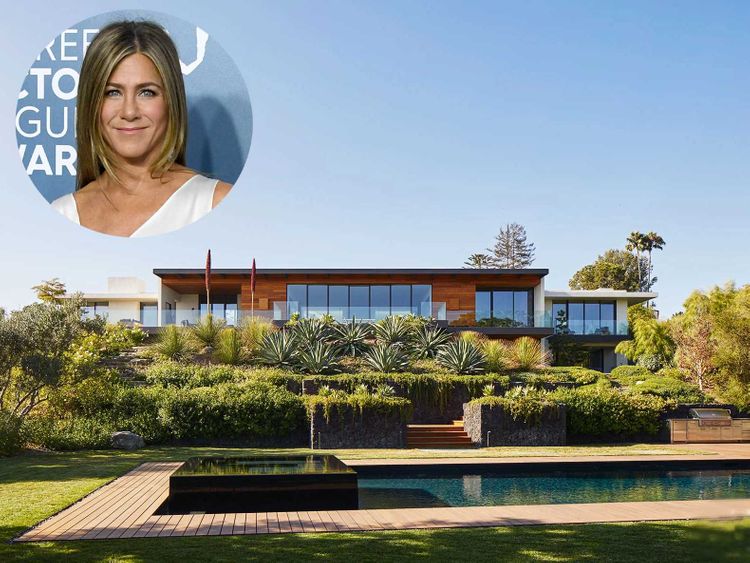 In 2011, Jennifer Aniston purchased this quaint 8,500 square-foot Bel Air mansion for $21 million. The home was built in 1965 and designed by A. Quincy Jones. Four bedroom, six and a half baths, guesthouse, and wine cellar take up the majority of space in this home. On two acres of land, Anniston has views of downtown LA and the Pacific Ocean. Seen here, her minimalist bathtub lays above the floor, complete with vintage-style faucet and temperature dials. The garden-enclosed-space truly helps the mind remove all unneeded stress.
Ira Rennert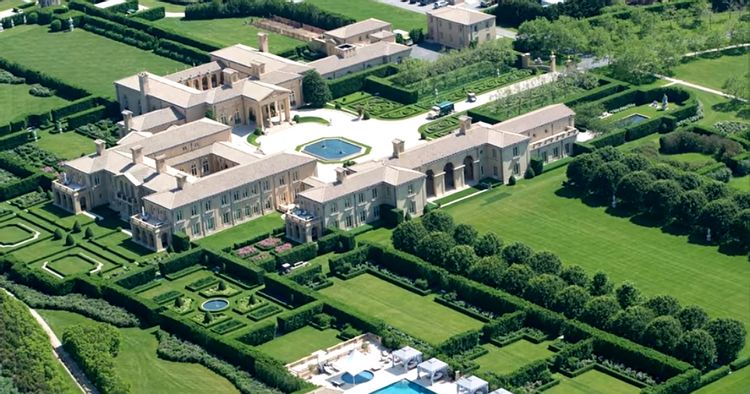 Ever wonder what investing in high-risk "junk" bonds can get you? Well, if you ask Ira Rennert, the answer would include (but not be limited to) the largest private residence in the United States. "Fair Field," located in the Hamptons, was constructed for Rennert in 2015 for $100 million. It takes up 63 acres of land, and is known by many annoyed locals — including one who wrote a book on the subject — as "The House That Ate the Hamptons."
They're not kidding, either; the house is so big — and so private — that only estimates are available as to its size and the number of rooms it contains. It may have anywhere from 21 to 29 beds and 18 to 39 baths, and its buildings may total as much as 110,000 square feet.
Jerry Seinfeld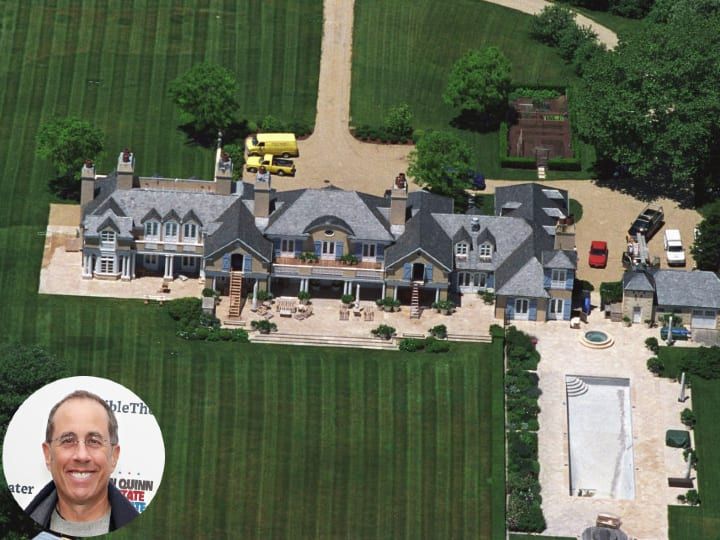 This legendary comedian's incredible estate was purchased from singer Billy Joel in 2000. It sits on twelve acres in Amagansett, New York, and includes a giant manor, three-bedroom guesthouse, two pools, and a 22-car garage. Jerry Seinfeld is an avid antique car collector, so he puts that garage to good use. He's also a lifelong fan of the New York Mets, which inspired him to install a full-size baseball diamond in the yard.
Tiger Woods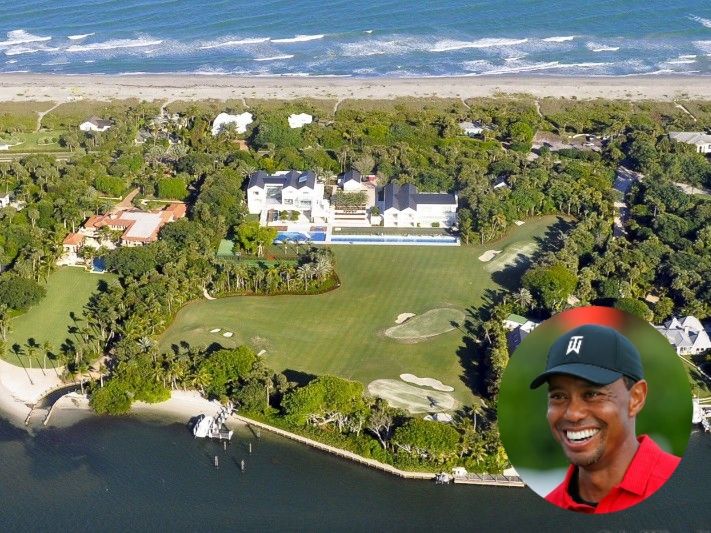 Tiger Woods' house in Jupiter, Florida is a 9,000-square-foot-plus beachfront property that he purchased in 2006 for $40 million. Not only is this home truly a mansion, but it also has two pools, a private custom golf course, and a boat-slip to top it all off. Tiger lives the perfect Florida lifestyle with a beach in walking distance and a backyard that fans of golf can only dream of.
Mark Zuckerberg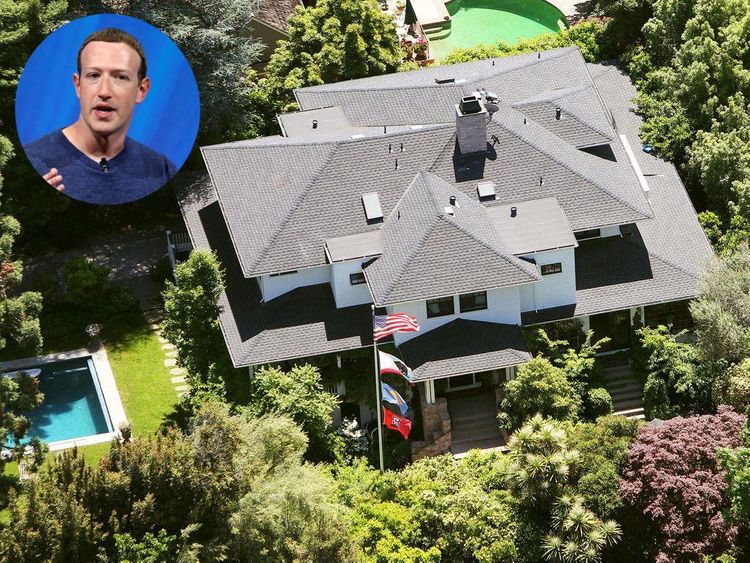 Facebook founder Mark Zuckerberg is the fifth-richest person in the world, but you would never be able to guess it from looking at his house. His 1903-built Palo Alto home cost only $7 million! (With a net worth of $77.6 billion, that's chump change). One would think that when he bought the four houses surrounding his property for $43.8 million, he had big, billionaire-worthy plans to build a compound, but you'd only be half right. He did submit plans in 2016 to build four separate, single-story homes in place of the existing ones to maintain the integrity of the neighborhood.
Hayden Panettiere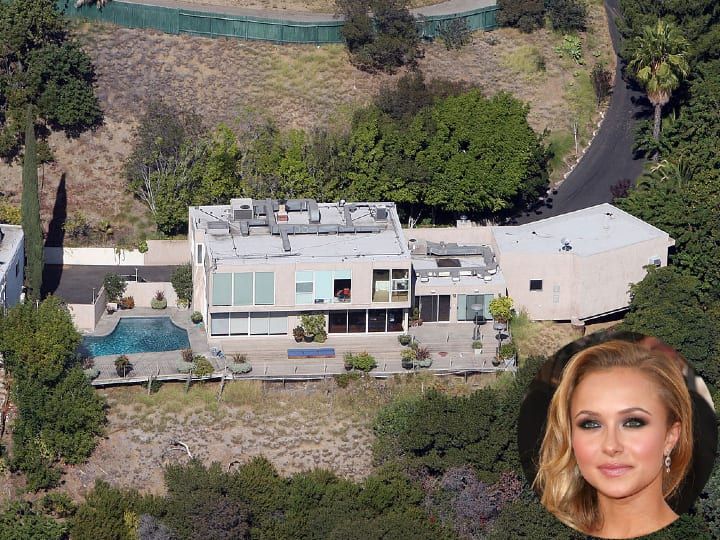 Before Hayden moved to Nashville, Tennessee, the Heroes and Nashville star owned this 3,120-square-foot mansion in the Hollywood Hills. It includes three bedrooms, three bathrooms, and a fancy kitchen with state-of-the-art appliances. Outside, there's a beautiful pool where visitors can relax, as well as spacious decks where they can enjoy stunning views of both the ocean and the city. Next-door neighbors include none other than Drew Barrymore and Slash of Guns N' Roses. Panettiere tired of the place after six years, selling it for close to $3 million.
Howard Stern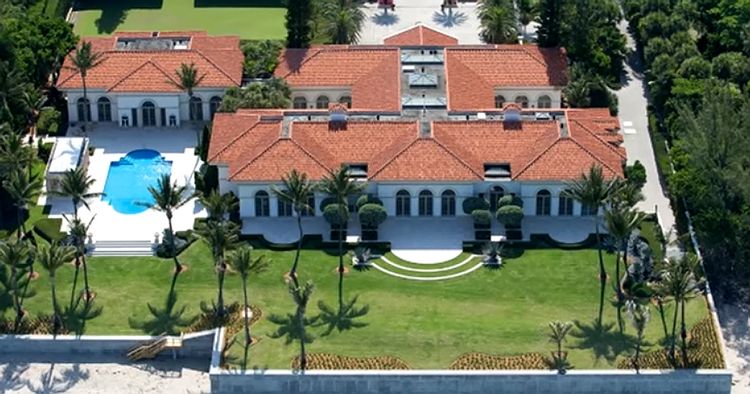 It comes as no surprise that Howard Stern, one of the biggest and most well-known radio personalities of all time, has a killer vacation home. His 19,000-square-foot pad in Palm Beach, Florida cost him $52 million, and that's before the extra $200,000 he spent on hurricane protection. He also threw down another $23 million for renovations. The money was used for a new kitchenette for those who work on the property and a 1,000-square-foot closet for his wife, Beth, among other things. What is surprising, though, is what he and Beth use the space for: rescuing kittens.
Britney Spears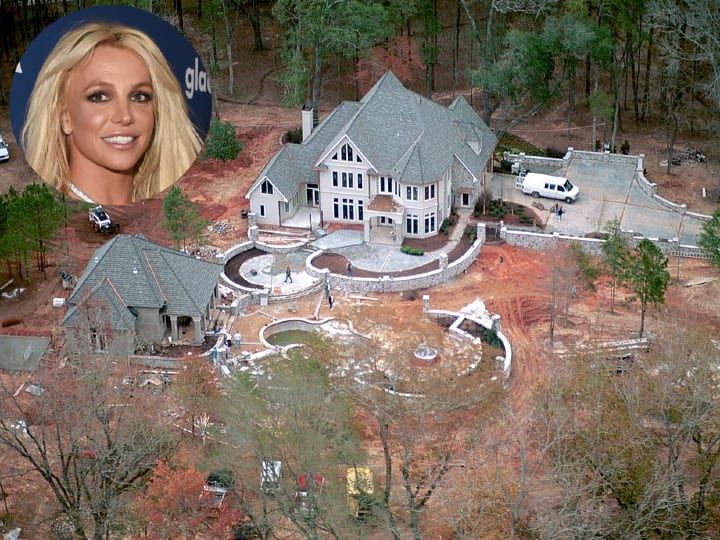 Britney Spears's first real estate purchase was in Kensington, Louisiana. The mansion, which she purchased for $3 million back in 1999, gives her the privacy she needs to relax away from Hollywood's prying eyes. Britney's sister, Jamie Lynn Spears, lives there most of the year. It's a great place for her to raise her two young daughters.
Harry Styles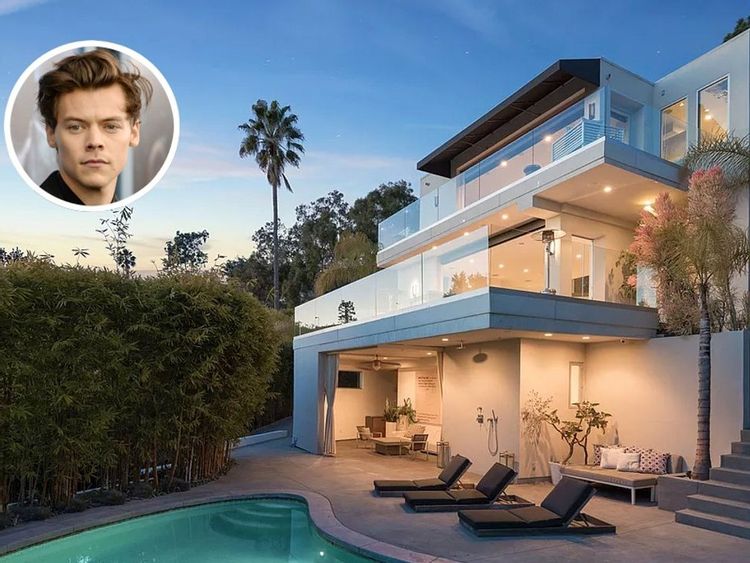 Harry Styles sold this LA property in 2019 for $4.8 million dollars. He now owns three different properties in Hampstead and Suffolk, making London, England his home base.
The Weeknd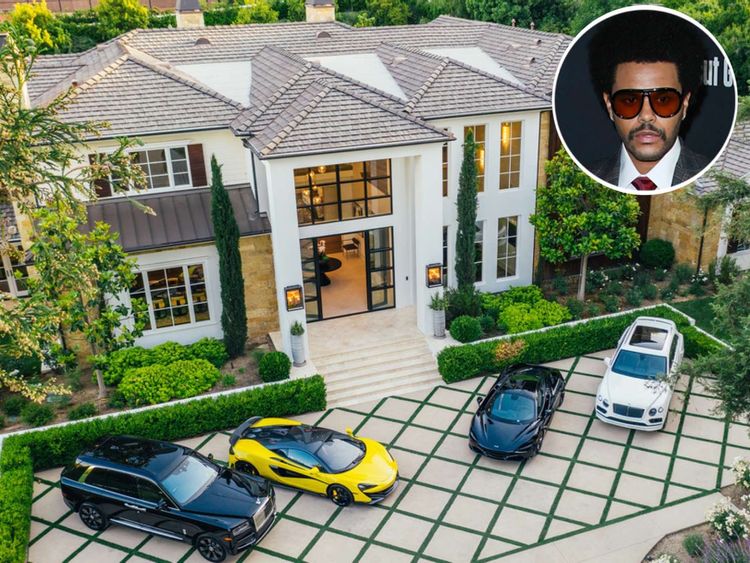 You know you're at a celebrity's mansion when the garage is full of luxury cars, lit by neon lights, and there's a basketball court to top it off. The Weeknd paid $18.2 million for the then-new 13,500 square foot home in the Hidden Hills north of Los Angeles.
John Legend and Chrissy Teigen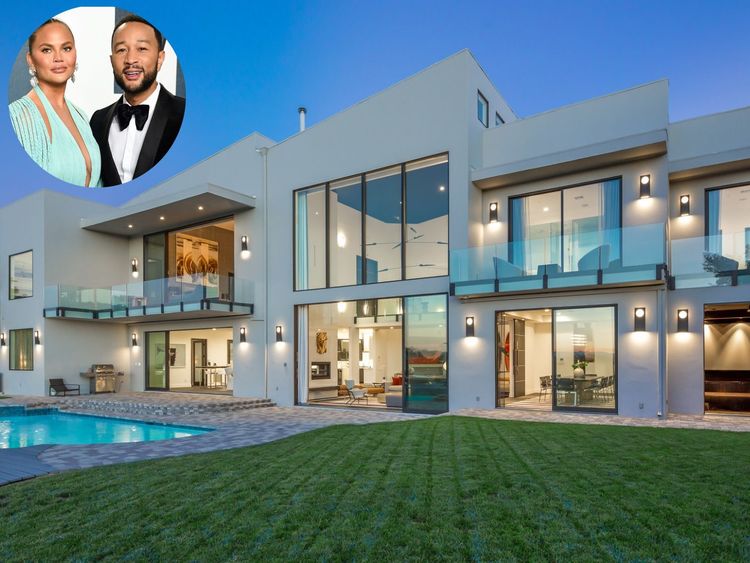 Hollywood's favorite couple, Chrissy Teigen and John Legend bought a new Beverly Hills mansion for $17.5 million. It comes with a home theater, an infinity pool, and a wine cellar. It has over 10,000 square feet, six bedrooms, and nine bathrooms.
Ariana Grande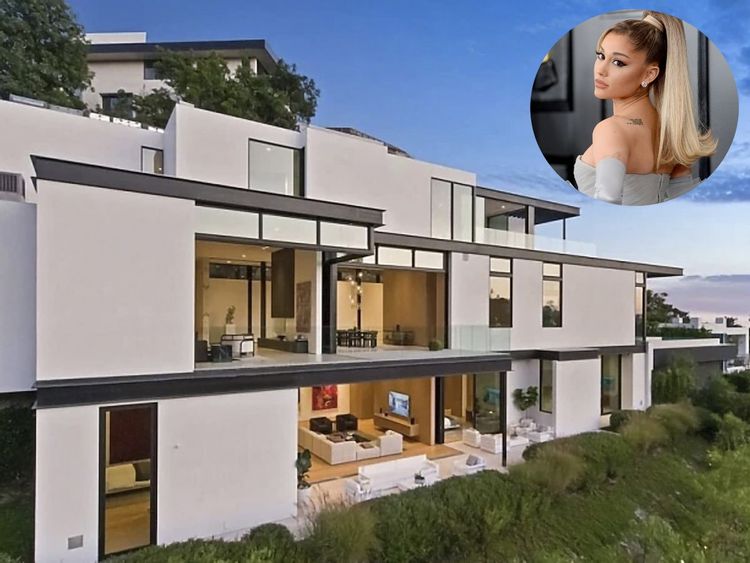 Ariana Grande purchased this $13.7 million mansion above LA's Sunset Strip. Spanning more than 10,000 square feet, the extravagant Bird Streets property was built in 2018 as a spec mansion and had not yet been lived in by anyone prior to her.
Kylie Jenner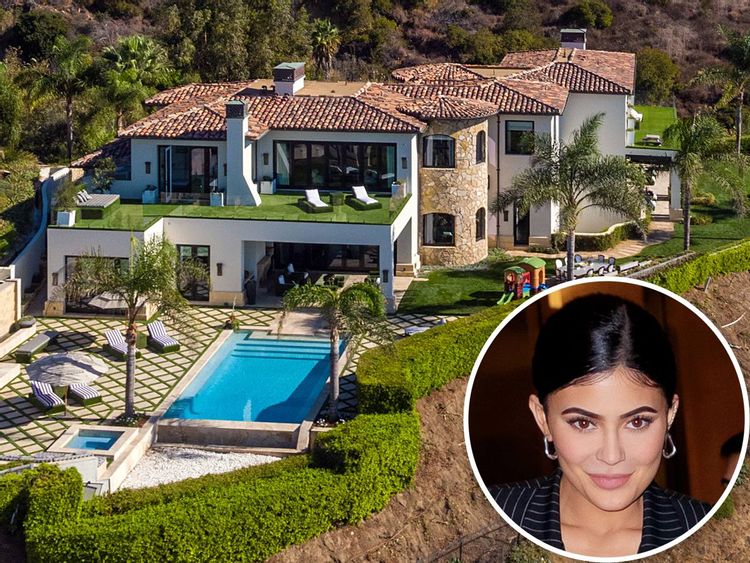 Kylie's most recent real estate purchase is a $16 million, 13200-square-foot residence in Hidden Hills, California. She also owns a further two properties in the same area which she bought last year for $8 million and $6 million respectively.
Justin Bieber & Hailey Bieber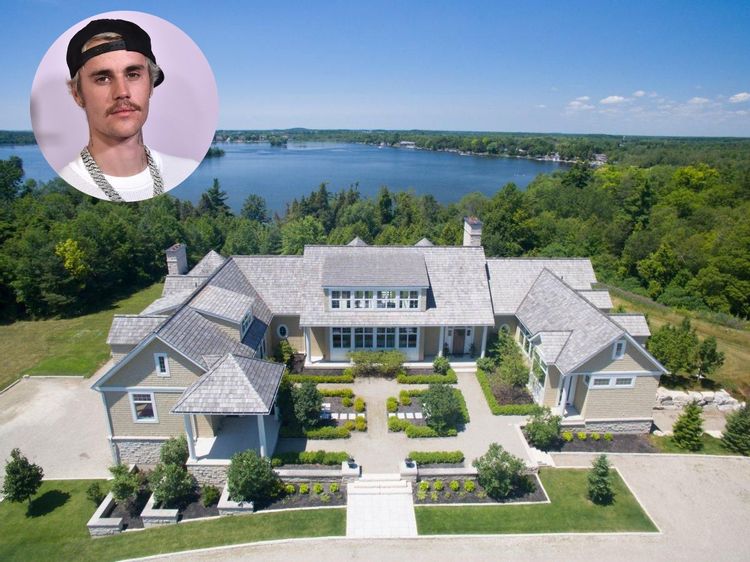 Justin and his wife, Hailey Baldwin, dropped $25.8 million on this Beverly Park estate. The 2.5-acre property has been waffling on and off the market for the past two years, originally listing for $42 million in 2018. All things considered, the Biebers got a great price!
Rihanna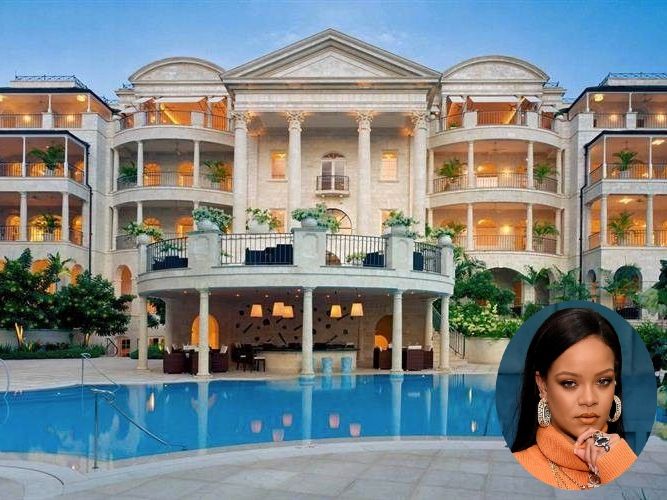 In 2013, Rihanna decided to have a take on a property in her native home of Barbados. Returning to the island for Christmas the year before, the star rented out the mansion, before deciding she loved it so much she was willing to pay $22 million to call it home.