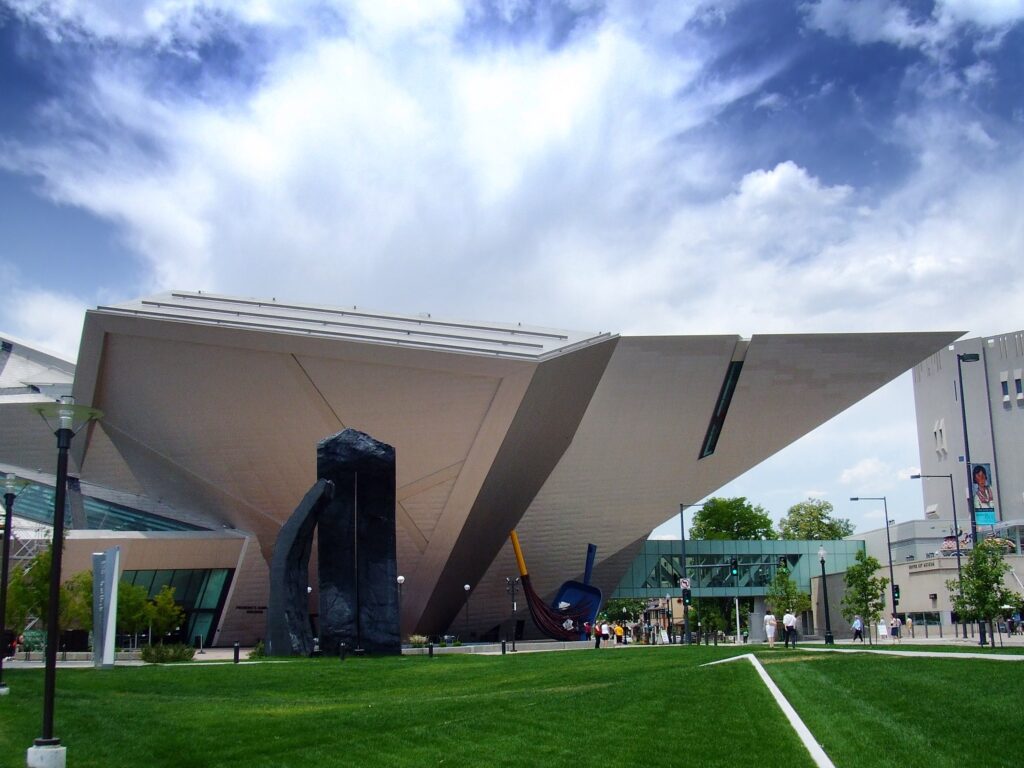 The Denver Art Museum (DAM) is one of the largest art museums between Chicago and the West Coast. They have over 70,000 works of art in 10 permanent collections including African, American Indian, Asian, European and American, modern and contemporary, pre-Columbian, photography, Spanish Colonial, textile, and Western American art.
The museum is beautiful and presents art through compelling storytelling. There are many reasons to love the DAM, but here are our top reasons you should visit.
It Has Local Flare
The museum's collections reflect work by artists from Denver and the Rocky Mountain region. Even the building's architecture was inspired by the peaks of the Rocky Mountains and geometric rock crystals found in the foothills of Denver- providing an enriched experience of the area for locals and tourists.
Not to mention it's in a great location right in the heart of downtown. If you're touring downtown, or there for a bite to eat, the museum should be your next stop.
Rotating Exhibitions
They have a wide range of rotating exhibitions that bring in temporary collections. In the past they've brought in works from Claude Monet, Norman Rockwell, Dior, Rembrandt, and many more.
Currently, they have an incredible exhibit of paintings and photographs from Frida Kahlo, Diego Rivera, and other artists from the Mexican Modernism movement. Also on display is Senga Nengudi: Topologies, which is more than 70 abstract and conceptual artworks from the prominent figure of the 1970s Black American avant-garde and Black Arts Movement.
Click here to see current and upcoming exhibits Calendar | Denver Art Museum
There's Something For Everyone
The DAM isn't a stuffy museum filled with portraits of old people: it's an excellent blend of old and new. Even if you're not a fan of finer arts, there are many modern exhibits. The museum is grouped by theme, so you can easily skip the collections you're not interested in.
If you have small children and are worried about spending money just to be rushed around, don't fear- kids get in for free. We're not talking only toddlers either, kids 18 and under can visit for free! This policy encourages kids of all ages to get involved in art.
It's Interactive
Their most interactive portion of the museum, "The Studio" is reopening in 2021.
The focus when it reopens is storytelling. Visitors will have the chance to explore themes of place, identity, and imagination. Through two interactive, self-guided activities, visitors will discover how artists combine visual imagery and the power of words. The Storytelling Studio will even expand beyond the museum walls. Visitors can become a part of the story via an artist installation on the plaza, or by watching videos online from local artists.
Normally, every weekend they run a demo artist program where you can watch artists in the flesh work on their art. Unfortunately, that program is on hold, but it's a great way to find a connection with artists, and see the process, not just the result.
There are also tons of hands-on kids' activities stationed on every floor of the museum.
It's A Good Cause
The primary mission of the Denver Art Museum is to build and enhance the public's awareness of and appreciation for the visual and related arts through the acquisition, preservation, and presentation of art works in both permanent collections and temporary exhibitions, and by supporting these works with exemplary educational and scholarly programs.
Click here to support the museum. Your gift, in any amount, makes a measurable difference. Donate | Denver Art Museum
It's Easy To Get To
The Denver Art Museum is located at 100 W 14th Avenue Parkway in Denver. You can easily reach the museum by public transportation or by car. The museum, located in the Civic Center, has nearby parking, and you can also take a shuttle bus into the 16th Street Mall shopping area.
The Denver Art Museum is devoted to helping visitors explore art and creativity through hands-on activities, extensive art collections, and world-class exhibitions. It's a great destination in Denver you don't want to miss!