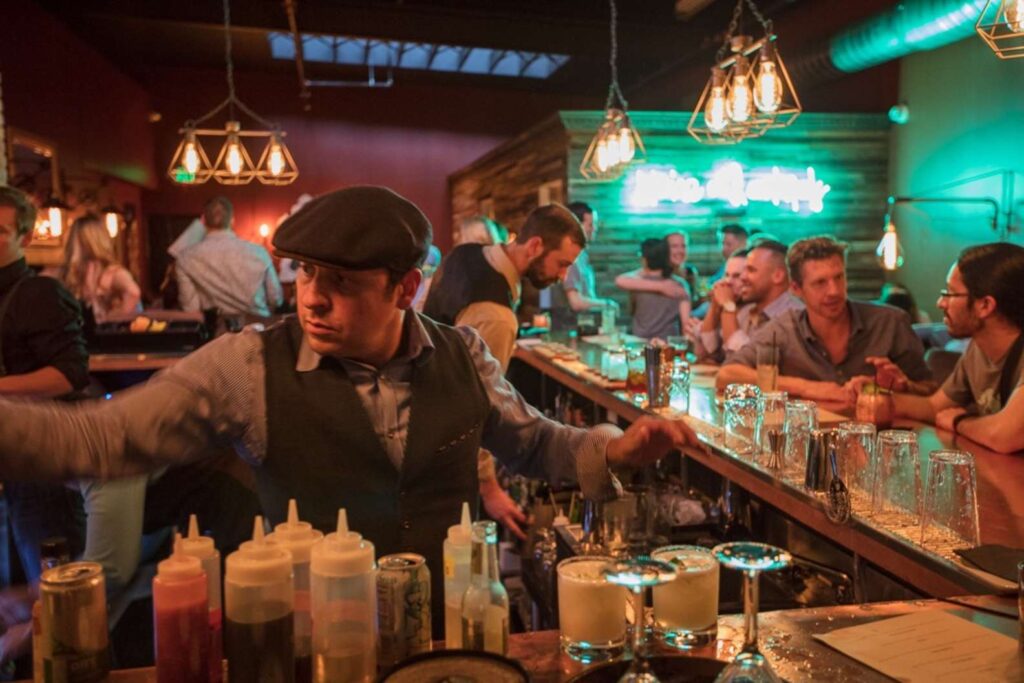 Prohibition might be long gone, but Denver's speakeasy scene is alive and well — you've still got the whole secret vibe happening, without the need to dodge those pesky cops on the way in. Some of these new-age hidden bars feature mock business fronts, while others are simply, well, damn hard to find — unless you're in the know. But they all have one thing in common: Once you're in on the secret, you won't want to share it with too many others.
---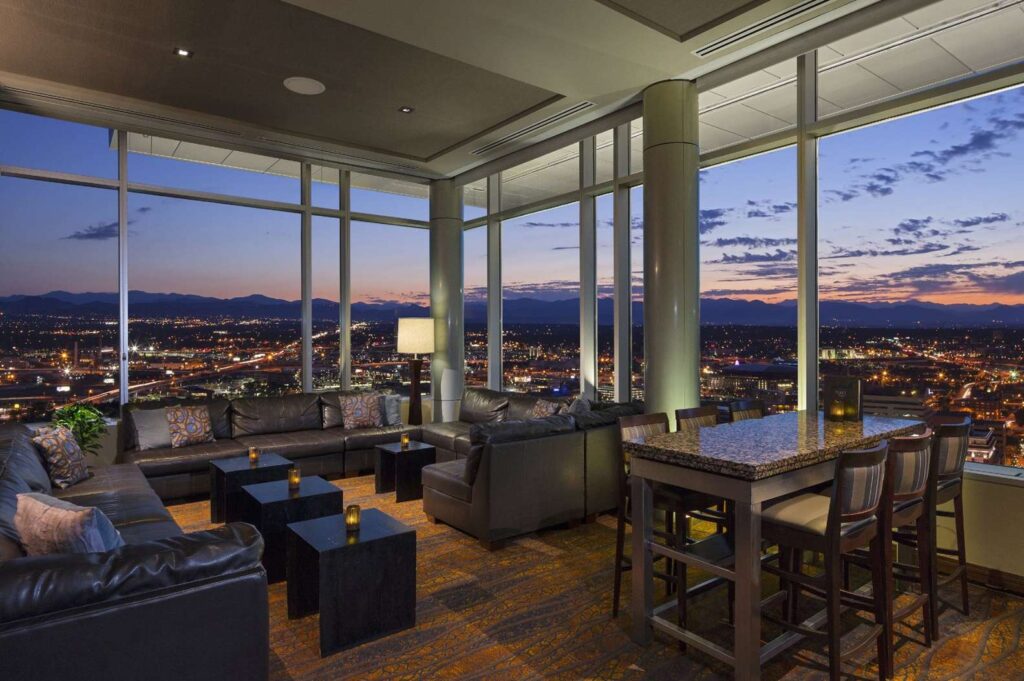 Theatre District
Pair your cocktail with a view of the Rocky Mountains and the city lights from 27 stories up. The Peaks Lounge may be a pretty typical hotel bar where you'll find mostly out-of-town visitors, but the floor-to-ceiling windows make for a sunset cocktail hour that's enough to impress even the most jaded native.

How to get in: Head into the Hyatt Regency Denver's main lobby and take an elevator to the 27th floor.
---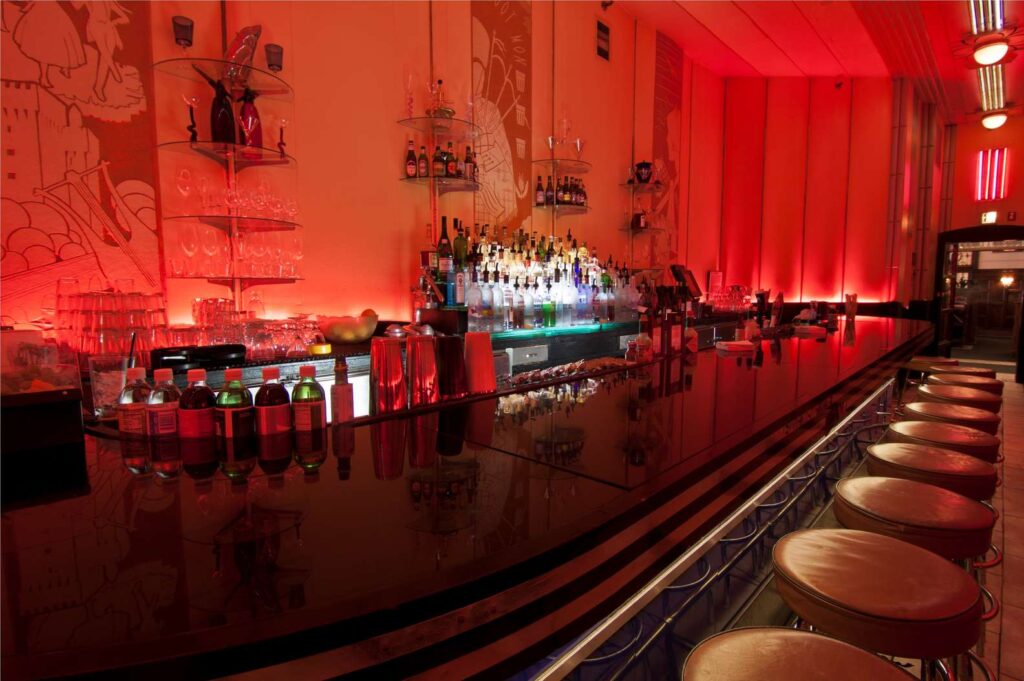 LODO
Come bathe in the red glow of this historic spot that was the first bar to open the day after Prohibition's repeal (although, rumor has it that secret panels and underground tunnels remain from its clandestine moonshine past). Not much has changed at the Cruise Room since then — the popular martinis and Art Deco style make this spot a true throwback experience.

How to get in: Head into the lobby of the Oxford Hotel, go past Urban Farmer, then look for the Cruise Room on your right.
---
North Capitol Hill
When you want a drink, an ice cream shop usually isn't the first place you'd think of. But this is no ordinary ice cream shop, where an unmarked "freezer" door leads to a cozy '60s throwback bar. Along with playfully flavored ice cream varieties like miso salted caramel and buttermilk sweet corn, this shop's also hiding one of Denver's best spots for creative cocktails.

How to get in: Go inside Frozen Matter, head to the back and find the freezer door. Flip the switch and hang tight with your ID ready.
---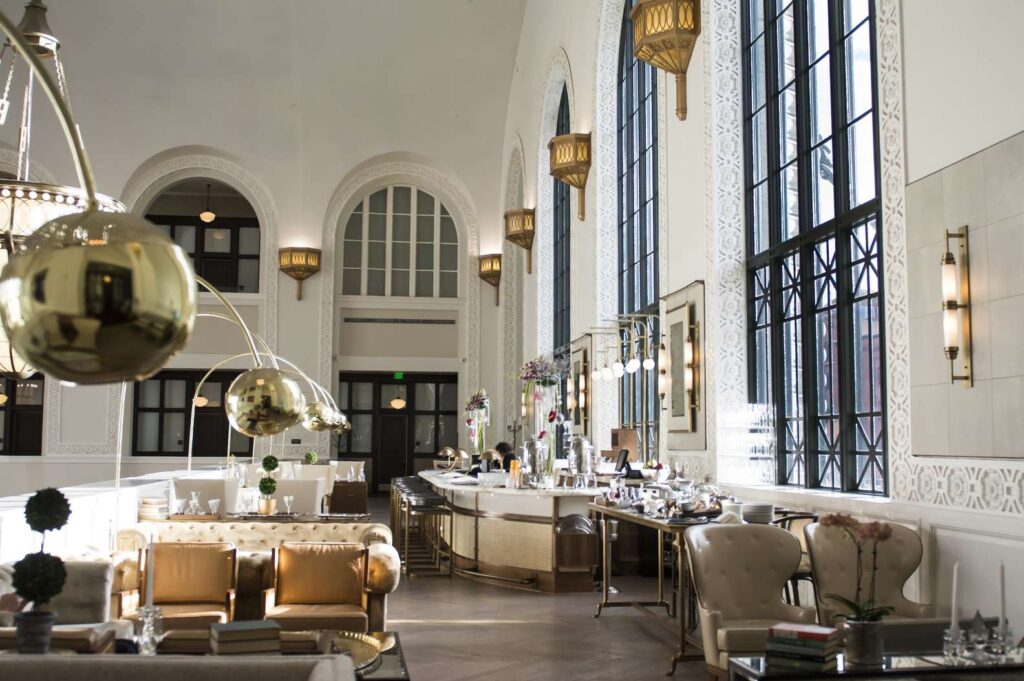 LODO
In 2014, Denver's historic Union Station got a major makeover, transforming the space from a quiet, forgotten corner of Downtown into one of the most popular destinations for dining and shopping. Though many have already discovered this elegant spot to grab a drink, its upstairs location keeps much of the typical Union Station crowds away.

How to get in: Look for the Cooper Lounge desk on the South side of the main floor of Union Station's Great Hall (near Amtrak). If there's space, you'll be escorted past a velvet rope to the lounge upstairs.
---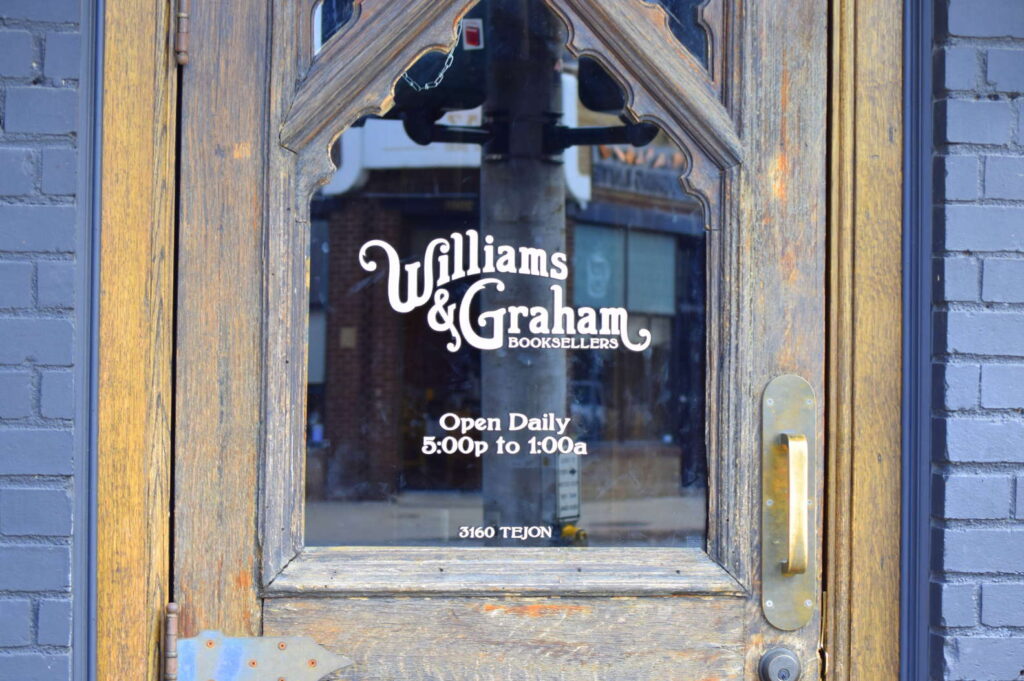 LOHI
What do you get when you hide a bar with only seven tables behind a moving bookshelf? Apparently, a lot of success. Williams & Graham has racked up local and national accolades, so while it's not really a well-kept secret at this point, you shouldn't pass up the chance to use a real-life secret passageway — especially one that leads to such classy cocktails.

How to get in: Head inside the "bookstore" and give the staff your name to add to the list. Eventually, one of the bookcases will swing open and you'll be taken to your spot inside the bar.
---
Cherry Creek
Retro is a description that gets thrown around a lot, but B&GC is a true Mad Men-style step back in time. Sleek design, martini service, shrimp cocktail, and caviar? That's exactly what you're getting here.

How to get in: B&GC is located in the Halcyon, a hotel in Cherry Creek. But to find the entrance to the bar, you'll need to head down the alley between Second and Third Ave. Look for a sign that says "Stair 3" and a golden doorbell. Finding it is only the beginning, though. Hotel guests may be able to garner admission but, otherwise, the bar is members-only, and the process of becoming a member remains under wraps.
---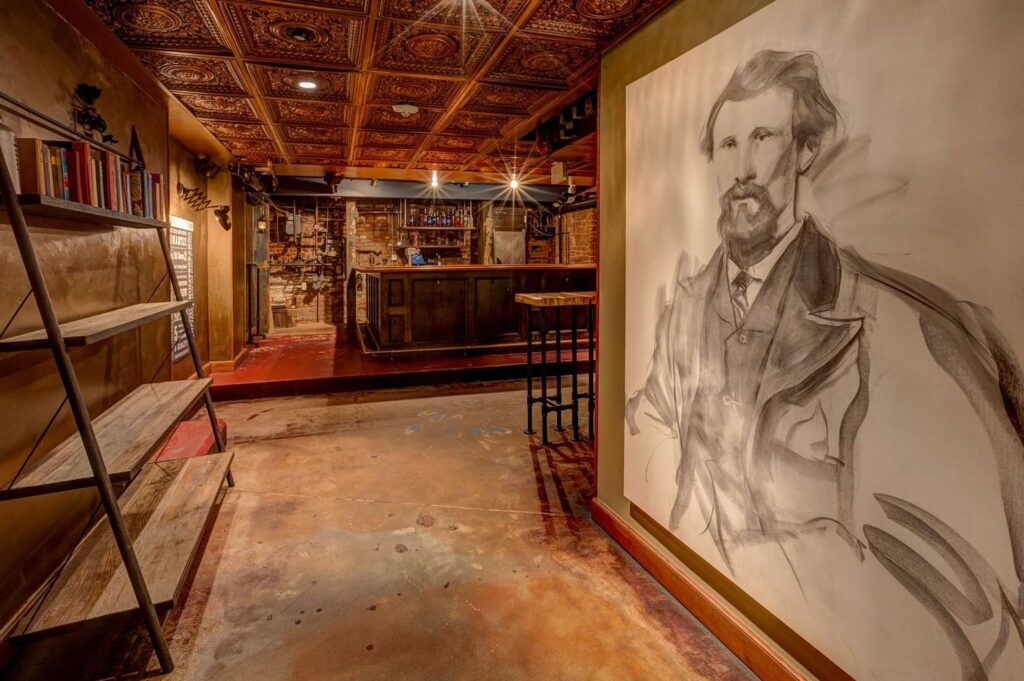 Larimer Square
This 1920s-style speakeasy owned by Denver restaurateur Frank Bonanno encourages you to embrace the past with rules that include no cell phones allowed (except inside the telephone booth). As a chef-owned bar, expect bar food that goes above the norm and updated takes on classic cocktails.

How to get in: Follow the signs that point you down a set of stairs to a door that says, "Wednesday's Pies." Head into the (fully functional) pie shop, tell the hostess you're looking for Green Russell, and you'll be escorted through another door that leads to the bar.
---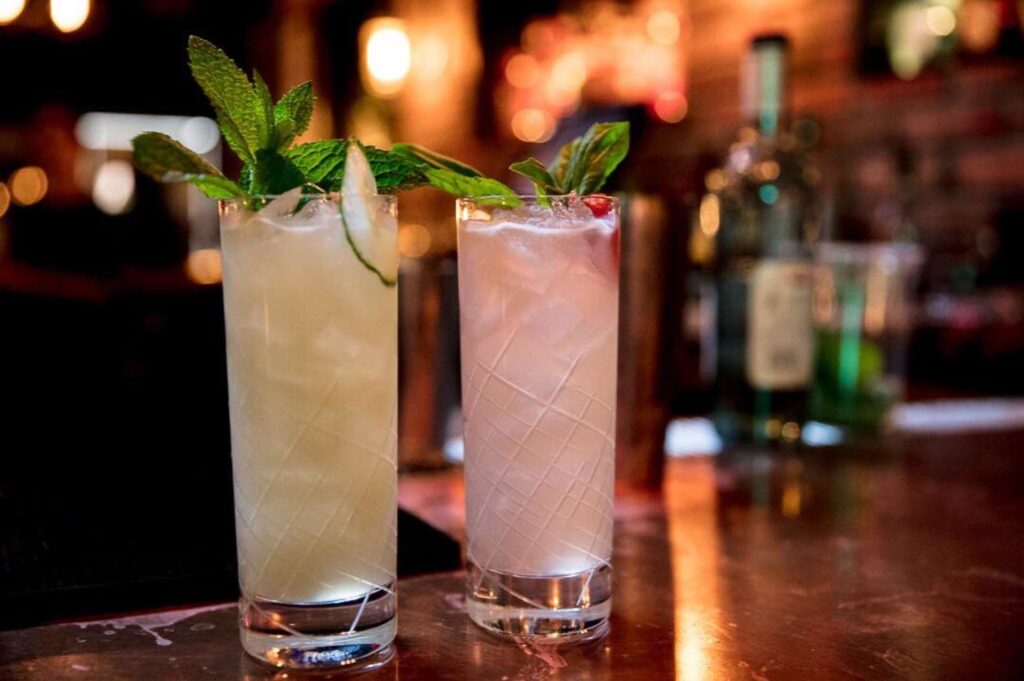 RiNo
From the outside, this spot appears to be a trendy art gallery. Sure, you can browse the art, but the main event is the dimly lit lounge bar which makes a superlative setting for smoked old fashioned and small bites including charcuterie and raspberry chipotle wings.

How to get in: Enter the art gallery and head towards the back. There, behind the desk, you'll find the door that leads to the bar.
---
Congress Park
This tiki bar within a bar is a tropical escape hiding in plain sight on Colfax. The second-floor hangout serves up exotic drinks loaded with c-c-crazy garnishes (and plenty of rum). And if you're hungry, you can order staples like wings and tacos from the kitchen downstairs.

How to get in: Go to Southside Bar & Kitchen and head straight up the stairs.
---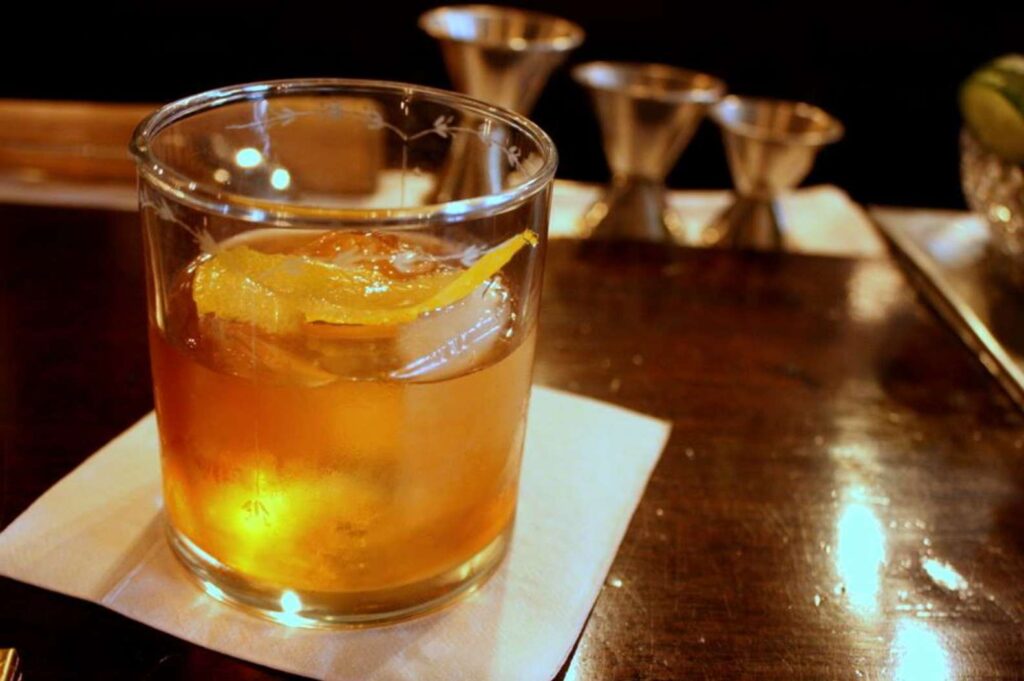 Highland
This sister bar to Colt & Gray may have a chic edge, but it's not meant to be exclusive. Sure, you can get oysters and beef tartare, but you can also just wander in for one of the best burgers in town. And make sure to always try to grab a seat at the bar at this subterranean lounge so you can watch the skilled bartenders crafting cocktails.

How to get in: Head through the inconspicuous glass door to the right of Colt & Gray's entrance and take the stairs down to the basement.
---
Molly Martin is a freelance writer in Denver, Colorado who is always on the lookout for fun things to do. Follow her Mile High adventures @mollydbu on Twitter and Instagram.